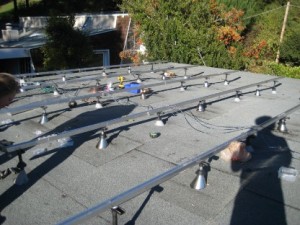 Overview
Although solar power is our specialty, you can call Quattro Solar for all your electrical needs including main service upgrades.
Financing
We offer solar leasing options! No down payment required. This is a great way to enjoy the benefits of solar, immediately lower your PG&E bill, and not have to pay cash upfront.  You will lease to own within 15 years and enjoy a locked in PG&E rate for 15 years.
Maintenance & Repair
Certified inverter repair technician: SATCON, Schneider/Xantrex.  Have also received training from Advanced Energy (AE), and FRONIUS.  Very familiar with common failure modes of most inverters – GROUND FAULT, EEPROM, STATE 225, STATE 434, STATE 104, Fac Bfr, Power Low, etc.  Roof leak repair, find and mitigate pinched wires, faulty solar pa nels, production analysis, shade analysis, cleaning solar panels.
Solar Design
Professional Drawings for submission to AHJ, System sizing, component selection, layout measurements, National Electric Code Compliance
Installation
We are familiar with most industry products. Our motto is "Build it right the first time."
Expansion
Do you want more solar?  PV expansion can be tricky.  Quattro Solar can ensure that your new addition is compatible with the existing layout and electrical design.  We offer warranty assumption, inverter replacement/upgrade, battery removal, battery renewal, conversions, solar monitoring. Telephony, Comcast TV routing modifications, Ethernet, and more.
Warranty
25 years for SOLAR PANELS.  MICRO-INVERTERS 25 years.   CONVENTIONAL INVERTERS 10 years.  QUATTRO SOLAR offers a 4 year workmanship warranty– this includes electrical work, structural attachments, and waterproofing.